CALLS
The Eurographics 2011 Technical Papers programme will showcase innovative research, practice and experience, and novel applications. We invite submission of high-quality papers that will set the standard in the field and stimulate future trends.
Accepted full-papers will be presented at Eurographics 2011 and published in a special issue of the Eurographics journal, Computer Graphics Forum, in print and online. We encourage submission from all areas related to computer graphics such as rendering, modelling, visualization, animation, virtual reality, computer vision, imaging, and related disciplines.
New. Use this 3d data in your papers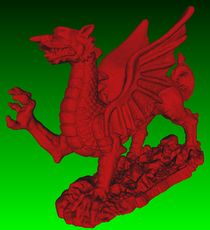 We have scanned a Welsh Red Dragon for EG2011. The data is available for download and freely available for your research. You are encouraged to use this model during the conference to help demonstrate you latest research ideas.
Organizing Committee Chairs

Conference Chairs

Jonathan C. Roberts, Eduard Gröller

Papers

Min Chen, Oliver Deussen

STARs

Nigel W. John, Brian Wyvill

Tutorials

Ralph Martin, Juan Carlos Torres

Short Papers

Nick Avis, Sylvain Lefebvre

Area Papers (HDR graphics)

Rafal Mantiuk, Erik Reinhard

Area Papers (Cultural Heritage)

Andy Day, Roberto Scopigno

Education Papers

Steve Maddock, Joaquim Jorge

Medical Prize

Katja Bühler, Anna Vilanova

Industrial, Exhibition, Book Display

Robert Gittins, Karen Padmore, Mark Jones

Awards Committee Chair

Laszlo Szirmay-Kalos