Welcome to the webpages of Eurographics 2011

Eurographics 2011 was the 32nd annual conference of the European Association for Computer Graphics. The conference took place in the town of Llandudno in Wales, UK at Venue Cymru. The hosts for 2011 were the Research Institute of Visual Computing, locally organised by the Visualization and Medical Graphics group at the School of Computer Science, Bangor University.
EG2011 is now closed - Diolch!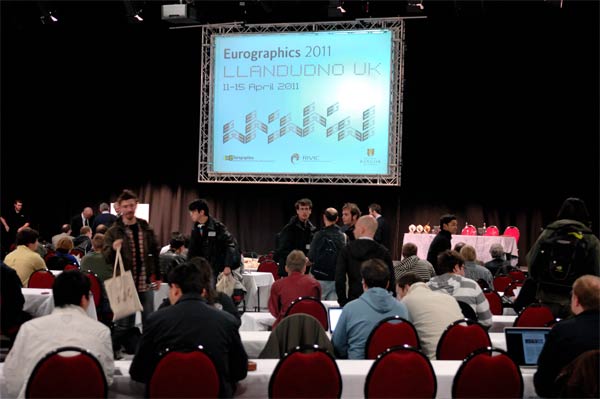 More details about the Eurographics 2011 Conference Dinner can be found here.
Gunter Enderle Best Paper Award
Wavelet Rasterization
Josiah Manson and Scott Schaefer, Texas A&M University, USA
Best Student Paper
Global Structure Optimization of Quadrilateral Meshes
David Bommes, Timm Lempfer and Leif Kobbelt
Best Poster Award Eurographics 2011
Image-based Retexturing of Deformed Surfaces from a Single Image
A. Hilsmann, D. C. Schneider, and P. Eisert
Co Events
Eurographics Workshop on 3D Object Retrieval and Eurographics Symposium on Parallel Graphics and Visualization. More details here.
Wales, part of the United Kingdom, is located on the western shores of Britain and features areas of outstanding natural beauty. Wales is a relatively small country in comparison to its neighbour, England. The capital of Wales is Cardiff which is in the South. In fact, the two main population areas are the South, encapsulating Swansea and Cardiff, and North Wales. North Wales includes the city of Bangor, Anglesey (a 715km2 Island off the North West Coast). The terrain of Wales is mainly unspoilt rural and mountainous. Wales contains three of Britain's most famous National Parks:
The Snowdonia National Park in North Wales; and Britain's only marine nature reserve
The Pembrokeshire Coast National Park in West Wales.
The Brecon Beacons National Park in South Wales.